Dreams And Nightmares Winners Have Been Announced
---
Maybe a little later than expected, but also more than promised! Valve just dropped the Dreams And Nightmares contest winners.
A couple of months back Valve announced a theme-based contest for creators worldwide. This time around it was not just a regular 'best picks' scenario – potential winners were promised huge cash prizes for their creations depicting scenes of oneiric idylls and horrors. Obviously, the hype was strong. We've written about the premise itself more in this article.
Because of the theme and the deadline it was widely speculated that the competition will be a Halloween related event. However, it took the moderators over a month to decide on the winners, because they've received over 15,000 submissions.
While the original contest rules promised to elude 10 winners and award them $100,000 each, eventually the whole case spectrum was filled with submitted works and the prize pool was raised to $1.7 million. Talk about momentum here!
Let's see through all the winner skins and talk about them a little.
Dreams And Nightmares Winning Submissions
Here we'll present each skin with a short description and a corresponding link to a Steam Workshop entry. Keep in mind that these are Workshop names and the final inventory/market items can be branded differently.
The wolf is out to get you! Utilizing the pearly shaders, this rich and fluorescent design is very attention-catching. When I first saw it I was worried that it will be too flashy in-game, but the change of hues on the pearly design favors the angle and looks better than expected.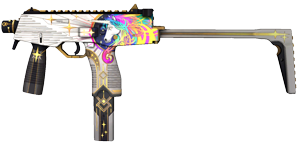 TheDanidem, the absolute legend behind AWP | PAW and dozens of other projects, has really evoked the sparkle with this one. Keeping to a more traditional finish, he adorned this so-and-so SMG with a design that screams craftsmanship (and sugar sprinkles) all over. A perfect pair for Five-SeveN | Fairy Tale?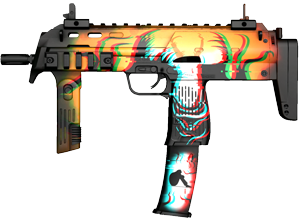 That's a real spooky one. It plays on so many good tropes – the pumpkin orange, the tentacles, the ghostly apparition, and the visual glitch. Many people praise it for not following the modern aesthetics. I'm just curious if it will not look too washy when the heat is on.
How long can you go without sleep? Cheshire Cat meets a watermelon palette. It's cool, it's laid back, will most likely gain a lot of traction, since Beretta skins are usually as dull as a Monday morning video call.
Somebody's watching me! The way this skin is designed makes me think of the weird core games from the verge of 90s and 00s. It utilizes complex shaders perfectly. Some people might find it too weird, but there's no doubt it will be the most unique FAMAS skin out there.

What if – a zombie apocalypse, but in CS:GO, and portrayed chibi-style? oKeyush answers that question. Random seed textures are always a treat. The auto pump is a good canvas for such detailed designs.

That's a color palette we don't see often enough. Cats seem to be a recurring theme, though. This one is pretty nifty – the cat's legs look very stretched and spaced out when looked at from the side, but the image contracts in a pleasant way when aimed with. Too bad it's used for such a non-meta weapon!

At fist I was wondering what is this skin doing in this contest (it looks very plain), but then I noticed. It's the little big-eyed creatures that do the trick. Something more innocent and playful is also welcome.
The sleepless see the worst nightmares. Gory without gore, scary without spooks. This one is really precious, if you are into more rustic skins. Could look very much in place on all those survival maps!
Impressive amount of details, strong allusions to utilitarian design, and several easter eggs here and there. Workshop users love that skin… but I have mixed feelings. It's a top-notch design, but also pretty intense.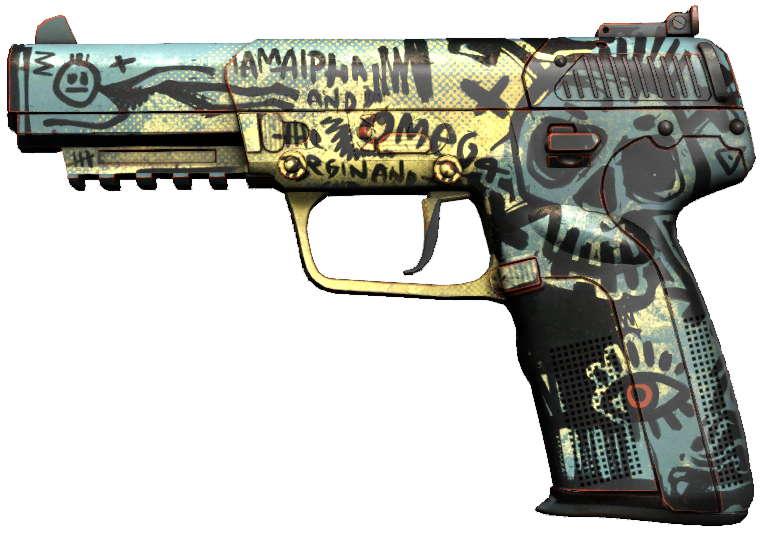 Personal favorite – similar vibe to USP-S | Cortex, but less flashy and mor grungy. What really got me is the fact that if you look close its design is made to look like it's been painted over a glossy red gun, with the original finish popping up from underneath. Emergent storytelling with skins!

Somebody here knows how to tickle the jury. Chickens are as much a part of CS:GO as shouting at the monitor is. However, it's not all about the inside joke. The randomly placed texture shows a really abstract scene of a gory fight between haunted birds. Neat!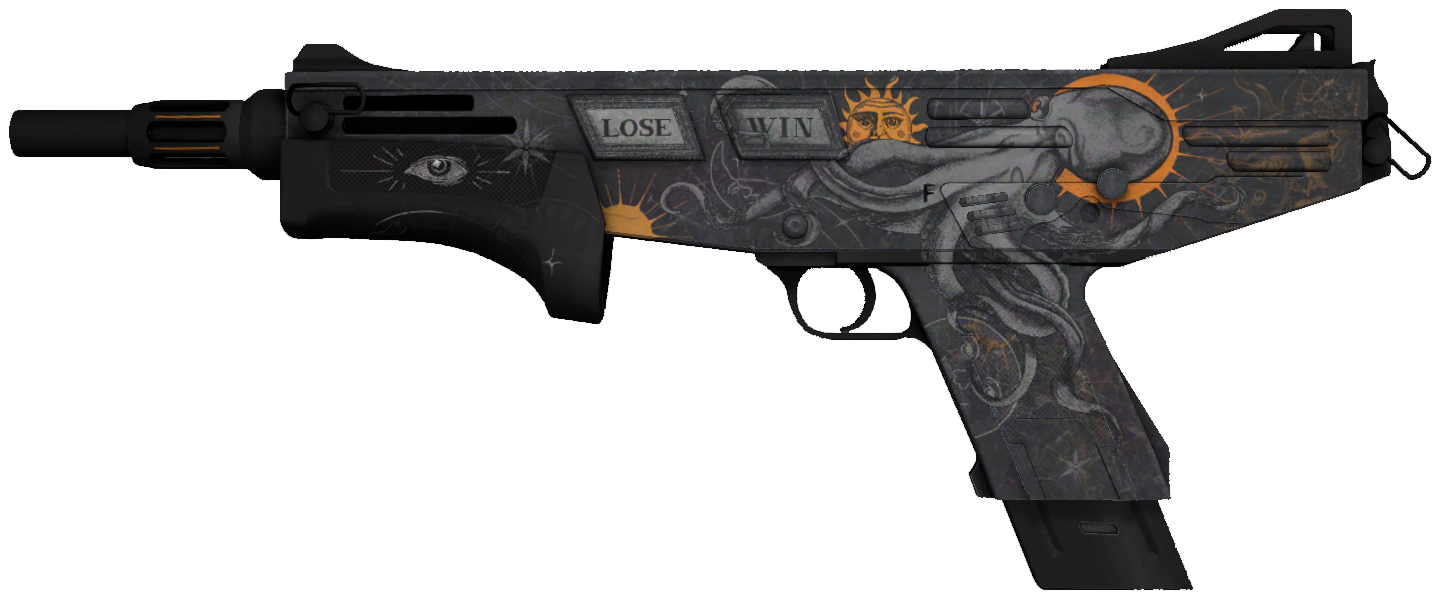 This skin is a tribute to Paul The Octopus, who has been known to predict winners of football matches in its brief, yet colorful lifespan. Here he's put in a more serious graphic style, with an obvious nod to the way old sea maps were ornamented.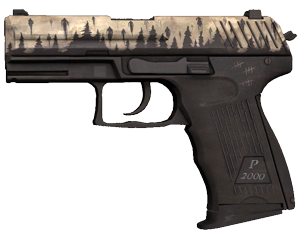 Flying doesn't have to be blissful. I get an impression this skin will be the underdog of the whole bunch, but it deserves at least a little bit of your love. The original forest line with rising wraiths has been painted with watercolors. Truly modest and inventive.

Is there anybody out there? I don't know how about you guys, but I think an Ouija board is a theme that will probably never tire down. We saw it on coasters, tables, cars, guitars, so why not on a shotgun skin. Plus, the wear effect is pure genius. Why only Mil-Spec, Valve?
Don't look under the shrubs! At first glance it's a banale design, with some nice ornamentation but nothing very eye-catching. However, take this Mac somewhere into a dark corner and let the pixies' stare hypnotize you. Fun!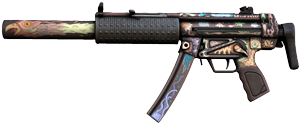 If Lovecraft wrote nursery rhymes. This skin, while offering a simple premise, is just nice to look at, and neatly balanced. The copperish metal of the gun contrast nicely with crayoned monsters. It's hard to decide if it's more dreamy or nightmarish. Still, a good gimmick!
What Happens With The Skins Now?
The winners are public from Monday on. Now Valve takes some time to contact the lucky contestants and make all the legal arrangements with them so that the skin can be marketed. They're expecting it will take a couple of weeks. Keep your fingers crossed that they make it before Christmas!
Summary
Dreams And Nightmares was a skin creation contest with a fun theme to play on and people approached it in a multitude of ways. There are some serious and gory skins, and there are some comedic approaches, and it's obvious Valve tried to appreciate the whole spectrum of works. The Dreams And Nightmares Case is teased to drop in a couple of weeks, and data miners have already found the skins in the data added to the game files in the recent update. We will keep you posted when the contest case is finally up and running!
Comments
comments
---